Five Questions To Ask When Setting the Compensation Philosophy You Need
Date posted
December 4, 2020
In the nonprofit community we know our people are our greatest assets, so what is your organization doing to attract and retain the talent and commitment you need to effectively meet your mission?
Compensation is one important variable in creating a desirable, productive and healthy workplace. Has your organization set its compensation philosophy?
When MANP first started conducting its biannual survey of nonprofit compensation back in 1997, MANP was fielding calls from people incredulous when they learned that nonprofit employees earn paid time off or a decent salary. The perspectives were not unique to Maine; MANP continues to hear these questions raised, as do colleagues at state associations of nonprofits around the country. These callers believe that working for a nonprofit requires financial sacrifice and compensation should come from the satisfaction of making a difference. That is certainly one compensation philosophy, but is it a good one for your employees and organization?
When thinking about your organization's compensation structure, consider engaging your whole team including staff, board of directors, and key stakeholders in a healthy conversation (debate) on compensation (wages and benefits) and what attracts people to your work. Here are five questions to ask when establishing a compensation philosophy for your organization:

1. What are our goals and values related to our workforce and how does this relate to compensation?
What are your organizational values and do your compensation practices align with them? If you value long-term employees, what about your compensation practices demonstrates this? If your goal is to recruit more [fill in the blank], what compensation practices are most appealing to this segment of the workforce?

2. What are our challenges with attracting and retaining talent?
Is your organization unable to fill certain positions? What do you believe the cause of this is and can a change in compensation help? Can your compensation practices help mitigate outside factors while advocates work to change the world? Do you have chronic turnover in certain positions or all over? Is your compensation package providing respite from burnout? Is your compensation package competitive enough to retain good workers?

3. What is our overarching compensation philosophy?
After engaging your teams around the themes above, start crafting your unique compensation philosophy (wages and benefits). A shared and transparent theory of compensation will help guide and align other decisions. No one-size-fits all. Your philosophy may be aspirational due to market forces and other constraints, but having an over-arching philosophy will help you be intentional about when you stray from it by identifying factors that support the exceptions. The following are examples of approaches to compensation we see in the nonprofit community:
Poverty wages: relying on attracting individuals who are called to a particular line of work. Religious careers often, but not always, adhere to this compensation philosophy. The Salvation Army is one example of a nonprofit that follows this theory and their employees are taken care of with other forms of remuneration. Americorps is another program where educational credits are offered in addition to a very small monthly stipend; however, housing and other remuneration is not offered.
Below-market Wages: This is extremely common in the nonprofit sector. Whether due to outside pressures to keep overhead low or myths about what nonprofits are allowed by law to pay, these low wages are often also justified by the intrinsic value of serving an important purpose. Organizations with state contracts and constricted funding models can often sweeten the pot by offering very good health and other related insurances, in-house services such as child-care, or workplace enhancements like allowing pets, casual dress, and for certain classes of employees, generous paid time off. These generous benefits can be an important component of an attractive compensation package and if done well can compensate for a lower wage when attracting and retaining good staff.
Competitive Compensation: Nonprofits compete with government and the for-profit sector for talent and to ensure adequate and stable staffing, organizations that pay competitively may have an advantage in attracting and retaining talent due to the added value of purpose-driven work.
Above Market Compensation:

Nonprofits are a public trust; entrusted with the task of solving terribly entrenched problems. As such, the sector needs to attract the best talent possible to run these complicated organizations and meet mission.
Livable & Equitable Compensation: setting compensation that is not necessarily related to labor market forces, but provides a livable wage applied equitably to all staff, adequate and affordable health and related insurances, and a leave policy that provides employees with the needed paid time off and flexibility to ensure a good work-life balance.

4. What are the funding constrictions that limit our ability to live up to our compensation philosophy?
For example, for some organizations, particularly those with state or federal contracts or grants, a maximum wage reimbursement is set that is often below market, inadequate to attract and retain workers, and can create real inequities between management and direct care providers. For these organizations, the ability to raise money to subsidize their grants and contracts may determine whether or not they can fill critical positions to advance the work. Your organization may have additional or different constraining factors that it will be important to name, and potentially work to dismantle over time.

5. How committed are we to our compensation philosophy and how can we make it happen?
Do we have buy-in from stakeholders and the community for how this compensation philosophy is central to our mission achievement? Who are our champions in the community, on the board, on staff who can help lead the charge? What structures will we need to put in place in order to achieve these goals?
When you have a clear understanding of your compensation strategies, you can propose more realistic budgets and educate board members, donors, and policymakers about what it takes to do the work and to lower the high costs of turnover, including the costs of lost productivity, momentum and relationships.
While this is just a toe dip into adopting a shared theory of compensation, I hope that it provides a little food for thought. As MANP prepares to launch their 2020 Report on Nonprofit Wages + Benefits later this month, this article is the first in a series designed to get you thinking about how to apply the data to your particular organization and its compensation philosophy. Stay tuned!
Additional Resources

About the Author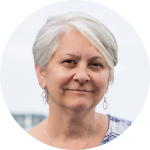 After a 20-year career with the Maine Association of Nonprofits (MANP) and 5-years as the first director of operations for Dietel & Partners, a philanthropic advisory firm, Brenda started a consulting business in July of 2019. Brenda provides interim leadership, operational assessments and improvements, and research and reporting to Maine nonprofit organizations.
While at MANP, Brenda created and managed the bi-annual Report on Nonprofit Wages & Benefits, conceptualized and managed the bi-annual "Partners in Prosperity" report which is now called "Adding up Impact." She also re-launched the MANP Advocacy Program while serving as the Director of Operations and Public Policy. While at Dietel & Partners, Brenda was responsible for all business operations and enjoyed engaging in work around reducing the power dynamics in philanthropy.
Consulting clients have included: Preble Street, Maine Children's Alliance, Foundation for Portland Public Schools, Engine, and MaineShare.
Prior to working at MANP, Brenda was a high school math teacher. Brenda serves on the boards of the Locker Project and Genesis Community Loan Fund. She is passionate about her family, especially her two adult children, her circle of good friends, and her amazing colleagues in the nonprofit sector. She lives in South Portland with her pug, Ozzy.