3 Themes About the Maine Nonprofit Landscape from our Most Recent Member Survey
Every year MANP surveys you, our members, to track trends in the sector, learn what's top of mind for nonprofits so that we are accurately amplifying your voices and experiences to policymakers and funders, and to get your feedback to ensure we're offering the trainings, resources, and benefits that are most relevant to your needs.
We are very proud of our response rate, with over 500 member organizations weighing in! Thank you to everyone who participated; it means a lot to our team
Here's what we learned from you this year:
Sector + Organizational Trends
We identified three major themes in this year's responses.
How nonprofits resource and structure their work is shifting and uncertain.
About 50% of responding organizations say that demand for services (and expenses) have increased significantly, while less than 15% report that giving has also increased.

Challenges with both financial management and strategic/business planning jumped compared to the past three annual surveys, with open-ended comments pointing to tight margins with rising costs, staff transitions, and inadequate outsourcing options.

About 20% of responding organizations mentioned challenges with state contracting practices, citing problems with late payments and approvals.

Some organizations, but not many, are seeking/exploring mergers (2% say yes, an additional 4% say somewhat/in progress).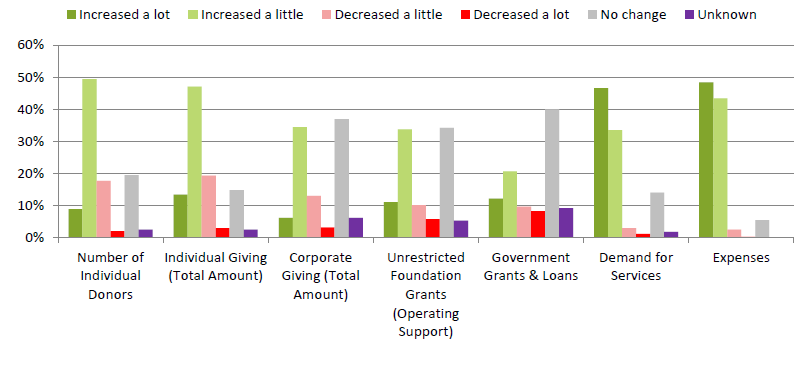 Our sector continues to struggle to attract and retain our most critical resource: people.
Challenges related to recruiting and retaining people to board, staff, and volunteer roles continue to go up.

Open-ended comments point to a discouraging spiral: board/staff vacancies and turnover stymie strategy development, fundraising, equity goals, etc, which in turn makes the organization less attractive to new staff and volunteers.

One in five organizations expect leadership transition to be a top challenge this next year, and most organizations do not have a succession plan in place.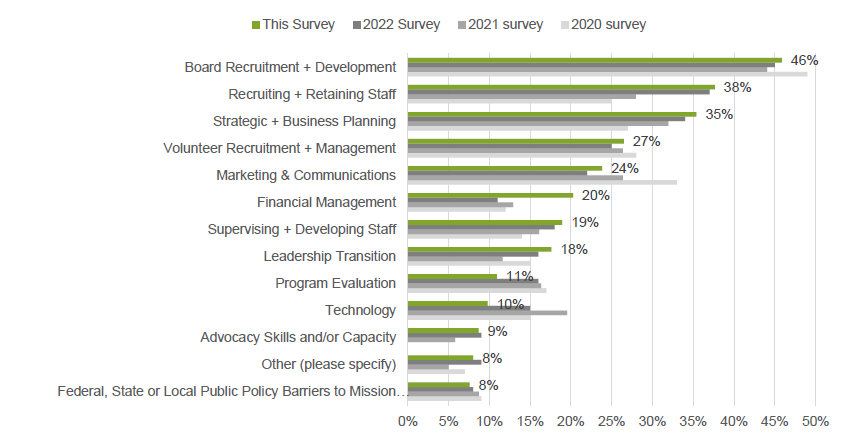 Government-nonprofit relationships and funding mechanisms are ripe for improvement.
Nonprofits views of policymaker supportiveness improved over last year, but there's more work to do.
20% of responding organizations reported challenges with state contracting practices, which likely under-reports the issues, since 58% of responding people didn't know if their organizations were having issues.

Only half of responding organizations work to influence government laws/policies.

Some leaders named funding constraints (grants, contracts) as a barrier to being able to ramp up compensation as quickly as is required by the current market.


Feedback on MANP Programs + Services
We're proud of and honored by the high engagement and regard of our membership, and we are excited to keep making improvements and developing new programs and services for you!
90% give high marks for membership value

91% rate MANP as a strong advocate for nonprofits

78% feel MANP's programs and services seem well-designed for their organizations

Ratings were strong across mission areas, geography, and size, with nonprofits feeling more positive about membership the longer they are members.

74% point to MANP membership for inspiring one or more positive changes, including the following:

52% Improved compensation (wages + benefits) practices for staff

49% Invested in professional/leadership development for your staff

39% Developed/improved an organizational policy

33% Changed board practices to increase effectiveness and/or engagement
Top rated MANP programs and services are consistent with past surveys and across organizations of different sizes, regions, and mission areas.
But don't forget about our Leadership Transitions resources - one of our best-kept secrets (not intentionally!) that organizations can tap into before the idea of a transition is even mentioned!
We heard that members want to see more:
Connections to funders

Expanded peer connections and mentorship opportunities

Free and low-cost programs and personalized support
These are just a few examples of the takeaways that we will be using to guide our work to better serve you in the upcoming year and beyond. Questions about the Member Survey or MANP's resources and programs? Reach out to membersupport@nonprofitmaine.org. We always love hearing from you!