Host a Presentation
Need a speaker for your annual meeting or conference? MANP's Executive Director, Jennifer Hutchins, would be honored to give a presentation on the economic impact of Maine's nonprofits to your audience.
Adding Up Impact: Maine Nonprofits at Work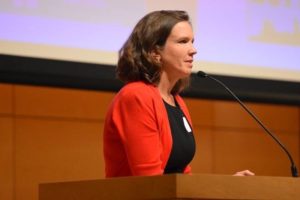 Making the case for an organization's value is a perennial challenge for nonprofit boards and professionals. Common misconceptions about how we work, what we do, and why nonprofits matter often arise just when we feel like we're beginning to make progress.
To tell a more complete story, more than a decade ago, the Maine Association of Nonprofits began publishing a biennial snapshot of the economic impact of Maine nonprofits, demonstrating how nonprofits cultivate quality of life, stimulate economic development, and strengthen communities.
MANP's presentation, Adding Up Impact: Maine Nonprofits at Work, includes data, findings and examples from the report, including:
Over 100,000 Maine people works for a nonprofit;
Maine nonprofits contribute approximately $14 billion per year to the economy ; and
Maine's nonprofit sector paid over $5 billion in wages in 2019, or 18% of the state's total payroll.
Each presentation is tailored to include county-specific data when appropriate, and participants leave with helpful messages, data points and a link to a toolkit they can download and incorporate into their organization's communications and fundraising efforts.
Schedule a Speaking Engagement
Please reach out to Jennifer Hutchins to check availability and ask questions about MANP attending your special event.