Back to Products + Publications
Board Basics + Keys to Successful Board Recruitment Bundle
Electronic Publications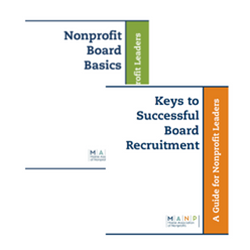 Members have access to these electronic publications for free, but non-members may also purchase them. If purchased together, Board Basics and Keys to Successful Board Recruitment are more cost-effective.
Board Basics Handbook: This guide to nonprofit board service is for both new board members and for experienced directors who still have questions about whether their board is living up to its obligations.
The Keys to Successful Board Recruitment: It is the rare nonprofit organization that isn't struggling with some aspect of board recruitment. This publication provides nonprofits with the guidance and advice that will help them strengthen their recruitment strategies and process. 
---